Pradeep Kharat pockets Veterans Single Title
Jitendra Kale of DGA Central, Mumbai defeated his teammate Dilesh Khedekar to lift the Mens Singles trophy, while Rashmi Ranjan of A.G. Gwalior outclassed Audry D Souza of A.G.Mumbai to lift the Women's Singles trophy in the concluding day of the IA&AD West Zone Carrom Tournament held in the multipurpose hall of Office of the Accountant General (A&E)-II, Maharashtra, Nagpur. The veteran mens' title was pocketed by Pradeep Kharat of A.G. Mumbai who beat B.N. Verma of A.G. Chattisgarh.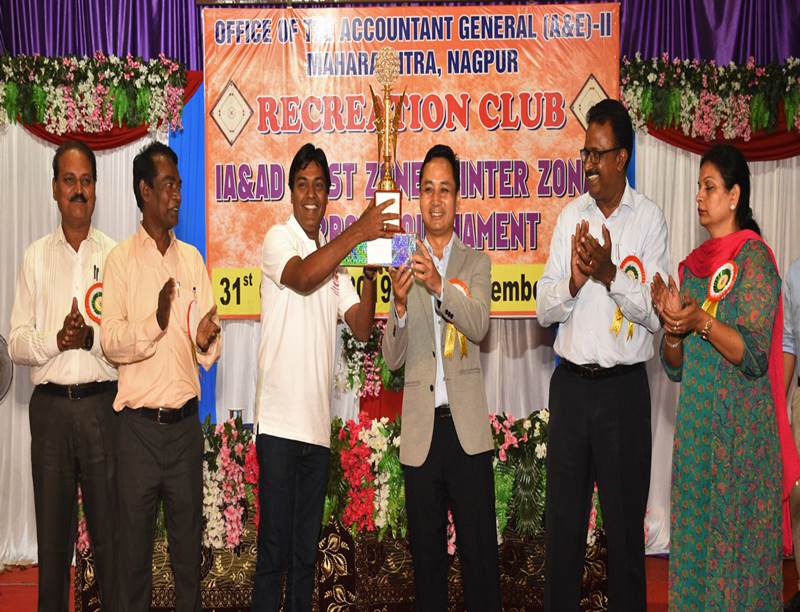 In the men's singles finals, Jitendra Kale got the better of his teammate Dilesh Khedekar 19-8, 17-25, 25-5 in a hard fought final. Jitendra Kale had earlier beat Raju Bhaisare of A.G. Nagpur in the semifinals 23-25, 25-8, 25-20. The Women's singles final was a one side affair where Rashmi Ranjan of A.G. Gwalior blanked Audry D Souza of A.G. Mumbai 25-0, 25-0. In the Veterans men's final, Pradeep Kharat of A.G. Mumbai beat B.N. Verma of A.G. Chattisgarh 25-10, 19-16.
Two black slams, one by Raju Bhaisare of A.G. Nagpur and Vijay Mahore of A.G. Gwalior, were scored in the tournament. The mens singles semifinalists, Raju Bhaisare, Jitendra Kale, Dilesh Khedekar & Rajesh Kumar, Womens' singles finalists, Rashmi Ranjan & Audry D Suza and Veterans finalists,
Pradeep Kharat & B.N. Verma, along with Team Championship winners and runners of West Zone, DGA Central, Mumbai and hosts A.G. Nagpur qualified for IA&AD Inter Zonal Carrom tournament slated to be held from 4 th to 6 th Nov. 2019 at the same venue.
Chief referee for the tournament was Shri Manoj P. S. read out his report at the end of the tournament. In addition to the local referees, the other departmental referees were Krishnakumar P.,Rajneesh Mishra, Shakeel Akhtar and Partho Banerjee.
Later, the Chief guest, Shri L. Hangsing, Accountant General (Accounts & Entitlement), Nagpur distributed the prizes to the winners and runners up. Shri Beju Joseph, Dy. Accountant General introduced the chief guest. Shri Pramod Challirwar, President, AGRC proposed vote of thanks while Smt. Aparna Shitole conducted the proceedings.
Ashok Chanore, Welfare Officer(A&E), S.N. Wasnik, Sr. Dy. Accountant General, Nareshkumar M., Asst Accountant General, S. G. Sable, Welfare Officer(Audit), Smt. Vidya Patwardhan, Secretary, AGRC were present on the occasion. N.S. Muley, L.S. Fabiyani, V. Nagrajan, R. Manikandan, Sanjay Nagarkar, R.S. Reddy, Shankar Manchandia, Manju Naidu, Jaya Bhoyar, Jyoti Pai and Sarika Patil and others, worked hard for making the tournament a grand success.
Brief Scores:
Men's Single ( Semi-Final)
Jitendra Kale (DGA Central, Mumbai) beat Raju Bhaisare (A.G. Nagpur) – 23-25, 25-8, 25-20
Dilesh Khedekar (DGA Central, Mumbai) beat Rajesh Kumar (A.G. Gwalior) – 19-24, 25-6, 19-15
Men's Single (Final)
Jitendra Kale (DGA Central, Mumbai) beat Dilesh Khedekar (DGA Central, Mumbai) – 19-8, 17-25, 25-5
Women's Singles (Finals)
Rashmi Ranjan(A.G. Gwalior) beat Audry D. D'Souza(A.G. Mumbai) – 25-0, 25-0
Veteran Men's Singles (Finals)
Pradeep Kharat (A.G. Mumbai ) beat B.N. Verma (A.G. Chattisgarh) -25-10, 19-16