Waste is a global threat to the world and many countries are now showing their concern towards it by taking preventive measures against it. According to the Press Information Bureau, "India generates 62 million tonnes of waste (mixed waste containing both recyclable and non-recyclable waste) every year. The average annual growth rate of India's waste generation is 4% to the world. It is noted that only 15% gets processed out of 60% of the total collected waste. The waste level is rising high and there is a dire need for adapting some thoughtful steps towards this problem."
Composting is a natural way of harnessing the process of decomposition. Today, a growing emphasis has been placed on the three Rs: Reduce, Reuse, and Recycle; and composting provides a great mean of accomplishing all of these three Rs. Through composting, we can reduce the amount of garbage sent to the landfill and reuse the organic matter that is getting dumped. With this, the waste also gets recycled into a useful soil amendment.
Composting is a small, yet effective way of managing household waste. Keeping this ideology in mind, the brand called Biocare India Pvt. Ltd. has taken the initiative to convert the waste into useful manure for plants and trees. This entire process of conversion is achieved with the help of composting. According to EPA India, if an individual house starts composting their kitchen waste then they can reuse and reduce the wet waste by 60%.
Nowadays composting process has been adopted by many countries for global waste management. Managing wet waste on a household level protects the spread of diseases around the locality. Biocare India Pvt. Ltd. has an innovative product called 'Biozap Compost Kit' which converts the kitchen waste into useful enriched manure in just 30 to 40 days.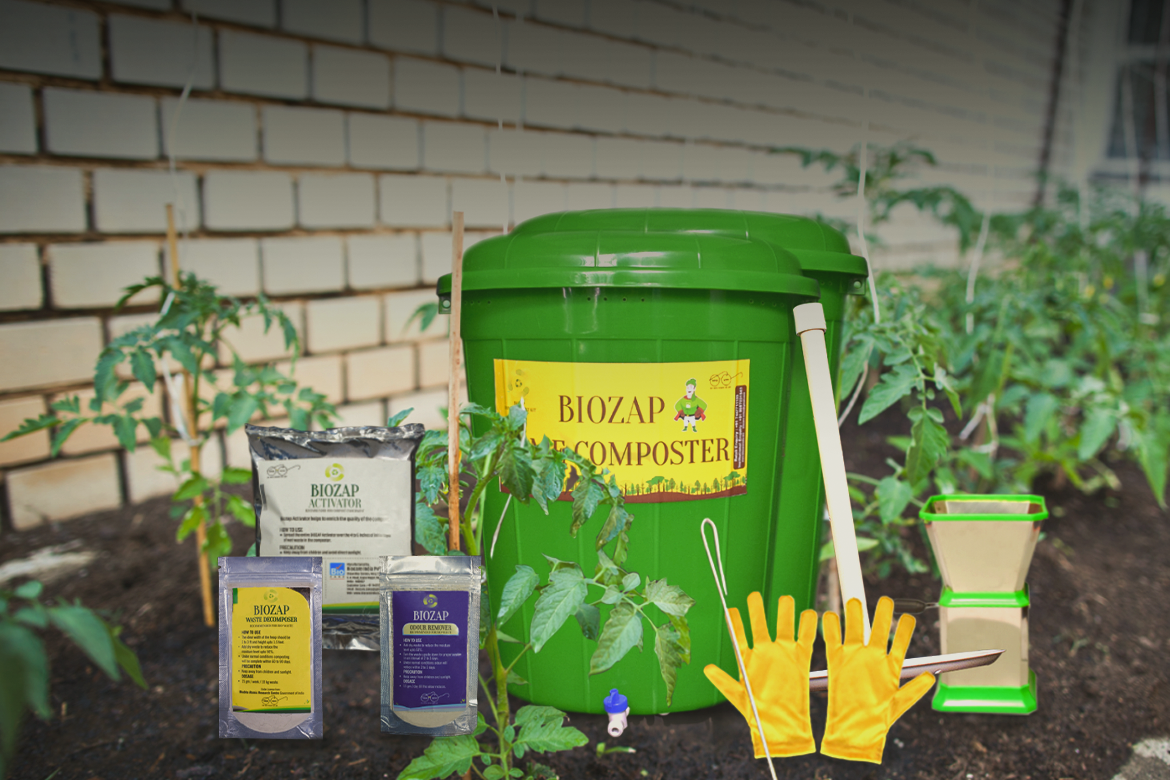 The founder of Biocare India, Dr. Suhas Buddhe has stated, "Our goal is to reduce the waste generation and promote organic own-growing habit amongst the people. In today's date, pollution is a major threat to our world; so, to take a step towards it, we encourage every person to start composting their household waste and use the end-result of it as manure for the kitchen garden. Doing so will be better for their own good and the safety of their families. It doesn't matter if your step is small or big, what matters is- how effective your step is towards the healthier future."
Biocare India has recycled over 140 tonnes of kitchen waste around India into the organic manure. The organic manure generated from it has helped many urban gardeners in getting the essential nourishment for their garden. Everyone is playing their own bit in social development by reducing the waste; but it would be more effective if we all can take the step towards this global issue on an individual level. We at Live Nagpur would always appreciate such efforts.
To promote the awareness about weather change and pollution, The Live Nagpur and Biocare come up with a contest called "Don't Waste Your Waste" for the garden lovers and for those who want to get into the gardening & composting.
In order to make our city clean and healthy, we would like to take a step forward and inculcate the habit of composting and waste segregation at every home. We'll be posting the quiz based on gardening and plants on The Live Nagpur's  Instagram story at 6 PM, every Friday. This contest will run from 29th November to 20th December 2019. It is a golden opportunity for all the urban gardeners to win giveaways from Biocare India.
To know more about 'Don't Waste Your Waste' Contest, visit The Live Nagpur Instagram Page.
Refer this contest to your friends/family members, who are into gardening and composting.
If you are not following our social media channel, here's the link-
The Live Nagpur: https://www.instagram.com/livenagpur/
The following were the winners of our giveaway contest-
Week 1– Ratna Rao (@ratna_durga)
Week 2– Rewa Kasbekar (@k_rewaaa)
Week 3– Aniket Somkuwar (@a.m.somkuwarr)
Week 4– Rhushikesh Bhusari (@justrushi)
Listed below are the special mentions of the contest-
Joshua.B.W– Played the contest from Australia (@joshua.b.w)
Khemraj Bhardwaj – The contest was played from the verified account (@khem_raj_bhardwaj)
Get all the latest and current news Nagpur here. For an exclusive & live updates from the Nagpur, stay connected with THE LIVE NAGPUR.