Railways have decided to run weekly special trains between Nagpur & Solapur on special charges to clear the extra rush of passengers during festival period as per details given below:
Nagpur – Solapur Weekly Superfast Special
Train No. 01433 special will leave Solapur at 20.20 hrs every Sunday from 11.12.2022 to 12.02.2023 and will arrive Nagpur at 13.05 hrs next day.
Train No. 01434 special will leave Nagpur at 15.15 hrs every Monday from 12.12.2022 to 13.02.2023 and will arrive Solapur at 08.40 hrs next day.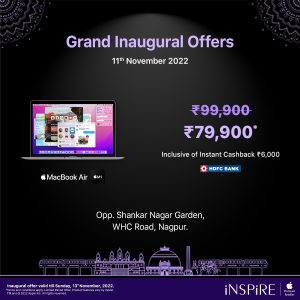 Halts- Kurduwadi , Daund, Ahmednagar Jn, Belapur, Kopargaon, Manmad Jn, Bhusaval, Shegaon, Akola, Badnera, Dhamangaon and Wardha.
Reservation: Bookings for special trains 01433/01434/01436/01435 and 01437 on special charges will open on 04.12.2022 at all Computerized Reservation Centres and on website: www.irctc.co.in
For detailed timings at the halts of the above special trains, please visit www.enquiry.indianrail.gov.in or download NTES App