A delegation led by President of Vidarbha Industries Association (VIA), Suresh Rathi, accompanied by Hon. Secretary – Gaurav Sarda, Vice President – Dr Suhas Buddhe, Treasurer – Naresh Jakhotia, Rohit Bajaj, Pravin Tapadia, Girdhari Mantri, Suhas Buddhe, Vishal Agrawal and Nitin Sudame met Union Minister for MSMEs, Nitin Gadkari,  today at his residence at Nagpur.
The delegation handed over a memorandum with a request to provide immediate relief to the industries. Following points were discussed at length for over  2 hours:
Requested to allow to start the industrial activities in phased manner as soon as possible, may be with reduced manpower in first phase. Minimum strength may be defined based on area of the unit or x% of present manpower under strict rules and regulations necessary to fight COVID -19.
Requested to permit workers to be return back to the factory units, as they have all gone home. Special guidelines can be created for transportation specifically related to their health and safety measures.
Requested to allow Exporters to immediately start their factory operations, as India is losing entire business to China and other foreign countries, and also informed about difficulties in getting foreign customers, as it takes minimum 3-4 years to get one.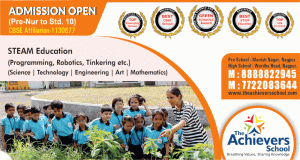 VIA welcomed the move of Central Government to pay EPF contribution of both employer and employees ie. 12+12 = 24% for the next three months so that liquidity is available in the hands of both employer and employee and continuity under EPF of the employees is also maintained. At the same time we also brought to his notice that though the scheme is good but restrictions like 90% of the workers getting wages and salary below Rs. 15000/- will hardly include any industry. We sincerely requested that the ceiling of Rs. 15000/- be removed from the notification as then only it will provide some relief to some of theMSME industries of our region.
Requested to ensure full implementation of the recent announcement of Central Governments about the immediate refunds of dues under GST & Income tax as this will help in giving lot of liquidity in the hands of manufacturers & market to support economic activities.
Requested to direct the Banks to give additional 20%limit of the existing Working Capital unconditionally and without any additional collateral security at-least to those industries who have been very regular on their payments of principal, interest instalments, and complying with bank formalities. Presently there is a directive to the Bank to allow 10% of additional limit to the industries but for want of stamp duty and agreement it is not implemented.
Nitin Gadkari, Hon'ble MSME Minister assured us and in immediate response called on Hon'ble Union Minster for Labour and Employment Shri Santoshji Gangwar and informed him about PF conditions. He also requested Hon'ble Union Minster for Labour to forward the note to the PMO with corrections in the conditions with full support from SME ministry.
Also, on the question of bank not immediately accepting and releasing the additional 10% working capital he immediately called on the top authority of SBI to ensure that the extra limit be made available for industries specially MSMEs.
Nitin Gadkari also advised us to frequently bring to his notice the problems and difficulties as and when faced by the trade and Industries and also to suggest ways and means of creating ease of doing business.