Indira Gandhi National Open University (IGNOU) was accredited by National Assessment and Accreditation Council (NAAC) with A++ grade (highest). In a Press Meet held today, Dr. P. Sivaswaroop, Regional Director of IGNOU Nagpur Regional Centre said that IGNOU is the 1st Open University in the country to be certified by NAAC. It is a one year process that IGNOU has applied and the NAAC has collected student feedback also. Around 30,000 students feedback was collected by NAAC. The NAAC peer team of 11 experts visited IGNOU Head Quarters at New Delhi and some Regional Centres, Study Centers. They interacted with students and Alumni, International Students also. The team consisted of 7 present and past Vice Chancellors, shows the rigorous evaluation process followed for this grading. The Regional Director congratulated and thanked all the stakeholders including students, coordinators, academic counselors and part time staff of the study centers for their dedicated efforts in achieving this outstanding grade. He thanked the Honourable Vice Chancellor Prof. Nageshwar Rao for his visionary guidance in this achievement. This A++ grade is valid from 8th January 2021 and upto 7th January 2026.
Dr. Sivaswaroop said that Combined Online Classes for IGNOU students of entire Maharashtra are conducted. He said that under the COVID-19 pandemic condition the face to face classes have become a distant dream. IGNOU has been using various digital media to communicate with students and conduct online counseling classes. For the present session IGNOU has been conducting online classes for students from all across Maharashtra jointly. For this the 3 regional centres, namely Nagpur, Pune and Mumbai have coordinated efforts and have been organizing the combined sessions. The IGNOU study centre at Pandarkawada, Yavatmal district is organizing online classes for students all across Maharashtra for the program on Certificate Programme on Life and Thought of B.R. Ambedkar (CLTA).
He further said that IGNOU keeps on adding new programs in every session and the latest addition are as follows:
Post Graduate Diploma in Corporate Social Responsibility (PGDCSR): It is meant for CSR Professionals and also for graduates interested in pursuing career as a CSR professional. Any graduate is eligible for this one year diploma. Fee is Rs. 6000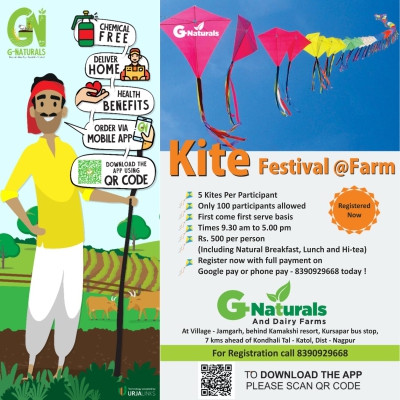 Certificate in Mobile Application Development (CMAD): The Programme aims at providing knowledge to the learners about the architectures of Andriod and iOS, design and implement databases for user requirements, develop mobile apps using Android and do programming using Python. Any person who is interested in developing mobile apps can join the programme. Eligibility is 10+2 or 10th with 2/3 year Diploma and the Fee is Rs. 5000
Certificate in Adolescent Health and Counselling (CAHC): The programme is for teachers who are teaching is primary, middle, secondary and higher secondary school or any graduate. This programme has been developed to prepare teachers and parents to help adolescents to develop healthy life style. Eligibility for these 6 months Certificae Programme is teachers who are teaching in primary, middle, secondary & higher secondary school or any graduates and the Fee is Rs. 2000.
Master of Computer Applications (MCA NEW) (Revised): The broad objective of the MCA is to prepare graduate students for productive careers in software industry and academia by providing an environment for teaching and research in the core and emerging areas of the discipline. The Eligibility of the program is (a) Passed BCA/B.Sc (Computer Science/IT)/ Bachelor Degree in Computer Science Engineering or Equivalent Degree with 50% marks OR (b) (i) Any Bachelor's degree of minimum 3 (three) year duration from a recognized University AND Mathematics as one of the subjects at 10+2 level or graduation level with 50% marks and Successfully completed PGDCA of IGNOU. Fee Structure: Rs. 48,000/- for full programme of two years to be paid semester wise @Rs. 12000/- per semester.
Diploma in Theatre Arts (DTS): This is first of its kind programme to offer through distance mode with active practical components of Acting, Scene work and classroom production. Any 10+2 passed candidate is eligible for this One year Diploma and fee is Rs. 7700.
MSC (Environmental Science):
The main objective of the programme is to emphasize the relevance of the usefulness  of environmental science from application perspective, to equip the learners with knowledge and understanding of the physical, chemical and biological processes of the environment, to expose the learners with theoretical principles involved in air-water and soil pollution and monitoring systems, to emphasize the principle and practices involved in sustainable natural resources management and environmental management and to impart knowledge and understanding  in impact assessment, environmental audit and laws. Graduates from Science Discipline are eligible for M.Sc in Environmental Science. 
The Online Admissions for January 2021 Session will be opened shortly on IGNOU website www.ignou.ac.in