The lockdown imposed has yielded a good response from the market on Wednesday. All shops and establishments downed their shutters at 1 pm, as directed by the municipal authorities.
Small traders however, cursed the Corona Virus, as their business is suffering again. Their hopes were rekindled after the lockdown conditions were relaxed a few days back. The business had started taking shape. However, fresh spurt in COVID 19 positive cases in Nagpur again dampened their spirits.
Last year when the lockdown was imposed in March, the cooler traders were in the tight corner. This year too their business has been affected, with imposition of fresh lockdown right in the beginning of summer season.
Even small shops, including tea stalls, small eateries, pan shops were closed at 1 pm. Police and Municipal officials ensured that everything is closed. Patrolling vans were seen moving on the streets and small lanes to ensure complete closure of markets. Right from Somalwada to Sadar, Ambazari to Wardhaman Nagar shops remained closed in the afternoon.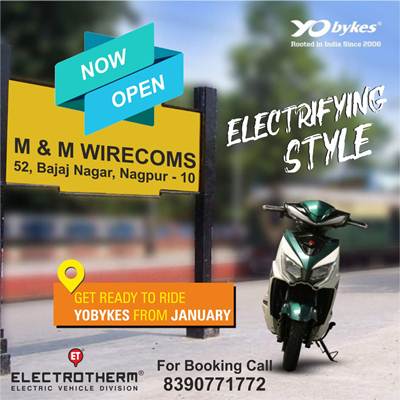 Those who are allowed home delivery, owners of restaurants, liquor shops etc, stated that even before 1 pm they received customers sparingly. Dairy traders, vegetable vendors, small ironing shops remained closed. They were happy that earlier they were spared from the lockdown.
The administration is bent upon imposing complete closure up to March 21. The weekend closure on Saturday and Sunday, followed by two more days of lockdown on Monday and Tuesday, failed to control the spread of the viral infection. On Tuesday Nagpur saw the highest number of positive persons in the country in a single day. Wednesday is not different if the number is rising.
Several business organisations, social and political leaders have stated that lockdown cannot be the solution to the pandemic. The Government, however, has not been able to work out strategy to control the spread, except imposing lockdown.
At the same time black marketers are taking advantage of the situation. The prices of goods of common use are being raised and the customers find themselves helpless.
Many private establishments have continued to work, as they have business spread beyond the boundaries of the country. Although they are following the rules prescribed by the government, the local authorities are compelling them to close down or face hefty fines. The employees are under continuous fear of losing jobs.
The situation is leading to frustration among common people, which is indicated by an increasing number of suicides, and persons indulging in illegal activities.