Kartik Jindal defeated D. Sarath, 2-1 while Bhavya Rishi beat her counterpart Namita Pathania, 2-0 to be crowned men's and women's single champions respectively. Benet Antony and ArunGeorge duo of A.G. Kerala defeated A.G. West Bengal duo ImanSonwal and Brijesh Yadav, 2-0 to lift the Men's doubles title while Tushar Sharma and Barma Meena combined well to beat Benet Antony and Ashna Roy, 2-1 to pocket the Mixed Double Title on the concluding day of Indian Audit & Accounts Department(IA&AD) Inter Zonal Badminton Tournament, 2022-23 which wasconducted under the aegis of Accountant General Recreation Club (AGRC) of the Office of the Principal Accountant General (A& E) II, Maharashtra at Divisional Sports Complex, Mankapur, Nagpur.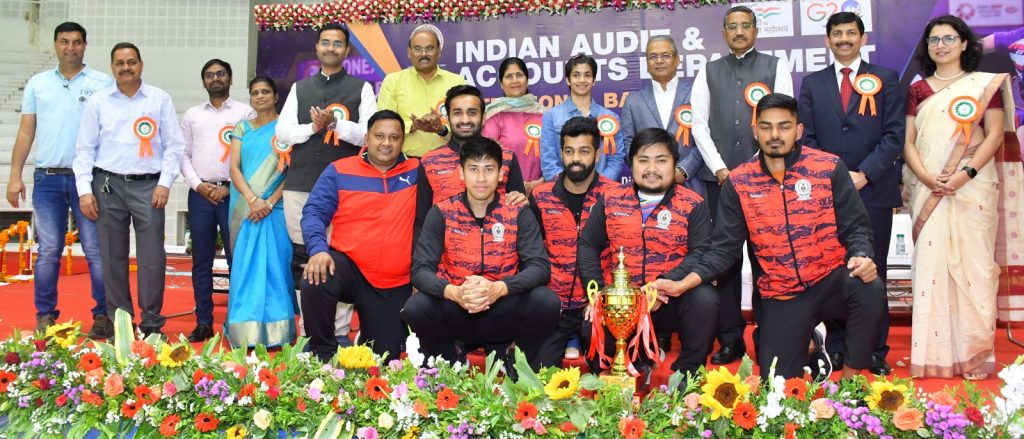 In the men's single final, Kartik Jindal of A.G. Himachal Pradesh beat D. Sarath of PDA Secunderabad in a hard fought match, 2-1. Kartik Jindal won the first set 21-16. D. Sarath staged a comeback when he won the second set 14-21. But Kartik Jindalheld his nerves to make it 21-14 in the final set, thereby lifting the Singles title.
In the Women singles final, Bhavya Rishi of Delhi Auditcomfortably beat her counterpart and her doubles partner NamitaPathania in straight sets, 2-0, with scores 21-8, 21-11 to be crowned women's single champion.
In the Men doubles, Benet Antony & Arun George duo of A.G. Kerala clinched a comfortable win over Iman Sonwal & BrijeshYadav duo of A.G. West Bengal in the finals, 2-0 with scores 21-6, 21-15.
Tushar Sharma of Delhi Audit and Barma Meena of A.G Uttar Pradesh combined well to beat Benet Antony and AshnaRoy of A.G. Kerala 2-1, in a heard fought final displaying best of the badminton skills, 20-22, 21-17, 21-16 to lift the mixed doubles trophy.
In the prize distribution function, Ms Pallavi Holkar, Sr. Dy. Accountant General introduced the Chief Guest, Shri Y.L.P. Rao, Principal Chief Conservator of Forest, Maharashtra, Shri AkshayKhandare, Sr. Dy. Accountant General introduced the guest of honour, Shri Arun Lakhani, Hony. Treasurer, Badminton Association of India and President, Maharashtra Badminton Association while Shri V. Naagarajan, Sr. Accounts Officer introduced Ms. Malvika Bansod, International Badminton Player.
Chief Guest, Shri Y.L.P. Rao, in his address emphasized the role of doing physical and mental fitness during entire part of one's life span which would be effective in day today working, playingand thinking. Guest of Honour, Shri Arun Lakhani, Ms. MalvikaBansod, Ms. Lata Mallikarjuna, Director General, Regional Training Institute, Nagpur, Shri R. Thiruppathi Venkatasamy, Accountant General (Audit)-II, Maharashtra, Nagpur gave away the prizes to the all the winners and Runners of various categories.
Shri Praveer Kumar, Patron and Principal Accountant General (A&E)-II, Nagpur congratulated all the players and said, all are winners and one should keep trying to do their best not only in sports but in life too.
Departmental umpires Shri Anuj Singh from Patna, ShriUnnikrishnan Verma from Ahmedabad, Shri Nitin Suman, International Umpire from New Delhi, Shri Buswajit Ghosh from Guwahati, Shri Rajesh Kamal Rajput from Shillong and ShriHarish Kumar Tiwari from Allahabad nominated by office of the Comptroller and Auditor General of India, New Delhi, and other local umpires, conducted the Tournament smoothly.
Shri. Naresh Kumar Manne, Dy. Accountant General, Ms Manimozhi, Dy. Accountant General, Ram Andani, Secretary, A.G.R.C. and large number of officers and staff members were present on the occasion. Apart from members of various committees like reception, ground, transport, accommodation, food, office bearers of AGRC worked tirelessly to make the tournament a grand success.
Smt. Smt. Pihoo Bhattacharjee and Shri V. Nagarajanconducted the proceedings while Shri Subhash Talnikar, President, A.G.R.C proposed vote of thanks and thanked the Chief Guest, Guest of honours, umpires, selectors from CAG office, office bearers, volunteers and media for the grand success of tournament.
Alexis Hospital provided Medical facilities during the entire four days of the tournament.
Scores in Brief:
Men's Single (Finals):
Kartik Jindal (A.G. Himachal Pradesh) bt D. Sarath(PDA Secunderabad) : 21-16, 14-21, 21-14
Women's Single (Finals):
Bhavya Rishi(Delhi Audit) bt Namita Pathania (Delhi Audit) – 21-8, 21-11
Men's Doubles (Finals):
Benet Antony & Arun George (A.G. Kerala) bt ImanSonwal & Brijesh Yadav (A.G. West Bengal): 21-6, 21-15
Mixed Doubles (Finals):
Tushar Sharma (Delhi Audit)& Barma Meena (A.G Uttar Pradesh) bt Benet Antony & Ashna Roy (A.G. Kerala): 20-22, 21-17, 21-16