Nagpur Municipal Corporation (NMC) has taken a charge on themselves cleaning the whole city and making the residents safer for citizens.
Since March 27 the sanitising drive has been put under the process of cleaning many areas of Nagpur city.
The chemical of sodium Hypochlorite has been sprayed across roads and residences through the fire brigades. Trucks having the capacity of carrying 2000 to 5000 liters of the chemical were launched for sanitization.
Areas like Laxmi Nagar, Dharampeth,  Gandhibagh along with many other areas of Nagpur city have been sprayed with the solution of Sodium Hypochlorite.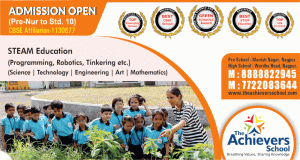 Fire troops worked restlessly in the night having the solution sprayed and disinfecting every corner of the city.
Areas, where the positive patients were found and said to reside, have been taken care of specially.
These orders were given by Municipal Commissioner, Tukaram Mundhe and the whole process was done under the guidance of Dr Pradeep Dasarwar, Health Department NMC.