Sudhanshu Godbole, an Electronics Engineer by qualification and after working in IT sector for 30 years, take dive into farming that to cultivation through natural methodology called as SPNF.
"In the SPNF method, we do not use or recommend even organic inputs such as farmyard manure or vermicompost or cocopeat, etc. Rather, if the farmer has one desi cow, than he/she can manage up to 30 acres of land. Because manure is used as an innoculent and not fertilizers which is put in high dose," said Sudhanshu Godbole, while talking to The Live Nagpur in an exclusive interview.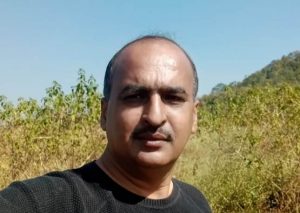 In the year 2018, I got a massive heart attack, due to consumption of adultrated food, transfat cell and heavy cholesterol based food as told by the doctors, and I decided to give people wholesome food, free from pesticides and other harmful chemicals, Godbole said.
"I was impressed by the work and writing of Padmashree Dr Subash Palekar and decided to take training from him in SPNF farming," Godbole said. He also added that Dr Vishwaroop Raichoudhary was also his role model.
"He formed G-Natural and Dairyform LLP and started cultivation through the methodology as initated by Dr Palekar and Raichoudhary. We have developed electronic sensors and doing farming through internet of things," Godbole said.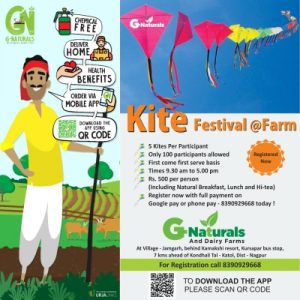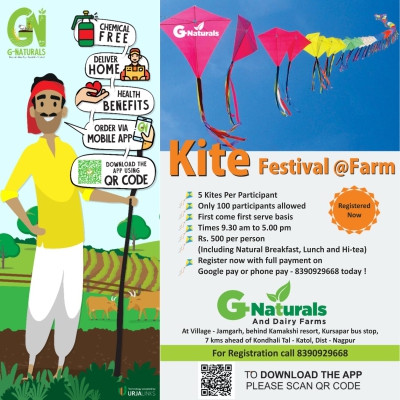 He added that they are now supplying food grains and vegetable free of harmful chemicals. They are supplying it through a mobile van in city at the consumers door step.
G-Natural and Dairy Farm has organized a 'Kite Festival' at their farm on January 1 4. "We wish to invite people and showcase our food products. We are offering them wholesome meal, and snacks and they can enjoy kite flying without any restriction and limitation as in city. We are getting overwhelming response from people though January 14 is an working day, we got 60 bookings till now and our limitation is to permit only 100 persons," Godbole said.
G-Natural and Dairy Farm which is spread in 60 acers of land  is located at Jamgarh, 7 kilometer ahead of Kondhali on Amravati Road, near Katiyawad Dhaba, opposite to Khursapar Village.